Se stai cercando un fotografo per il tuo matrimonio a Verona e non solo
Fotografo di matrimonio a Verona
il Tuo Fotografo di Matrimonio a Verona.
"La fotografia non è soltanto il prodotto di una macchina fotografica. Nell'atto del fotografare porti tutte le immagini che hai visto, i libri che hai letto, la musica che hai ascoltato, le persone che hai amato"
(cit. Ansel Adams )
La storia del nostro studio fotografico inizia a Verona nel 2009, inizialmente con il nome di "Alberto Zorzi Photography", quando Alberto decide per primo di trasformare in una professione quella che fino ad allora era stata la sua più grande passione. Da sempre appassionato di fotografia, ed in particolare di ritrattistica, Alberto aveva già iniziato a realizzare i primi servizi di matrimonio, dapprima solo per gli amici più cari e poi, grazie ad un rapido passaparola, per conoscenti ed amici di amici.
L'impegno sempre profuso in questa attività, che inizialmente portava avanti in parallelo con la professione di architetto, e la qualità dei lavori realizzati facevano sì che nel tempo la clientela si ampliasse sempre di più e che le richieste iniziassero a fioccare.
Il riscontro entusiastico registrato negli ultimi anni lo convincevano quindi ad abbandonare il lavoro per il quale aveva studiato, per dedicarsi definitivamente e completamente alla fotografia di matrimonio e fondare il suo studio.
Nel frattempo, a partire dal 2014 anche Alessandra iniziava a collaborare all'attività, dapprima come assistente o come secondo fotografo, e poi come collaboratrice alla pari. Con il consolidarsi della partnership, lo studio assumeva la denominazione attuale di "Alberto e Alessandra – Fotografia Italiana".
Oggi svolgiamo la nostra attività in una realtà solida e strutturata, grazie ad una serie di collaboratori che condividono il nostro stile fotografico ed il nostro concetto di fotografia di matrimonio.
Lo stile dello studio Alberto e Alessandra – Fotografia Italiana" è inconfondibile: reportage e pose creative si fondono in una composizione elegante e ricercata, con una netta predilezione per le foto spontanee, emozionanti e creative. Non manca un leggero tocco vintage, che si adatta perfettamente all'occasione, sebbene rivisto ed interpretato attraverso un'ottica moderna ed internazionale.
Pur avendo una chiara e netta idea di ciò che può rendere perfetto un servizio di nozze, il nostro principale obiettivo è da sempre quello di fare contenti gli sposi, assecondando ogni loro desiderio o gusto personale, nella convinzione che il fotografo non debba mai imporsi, bensì plasmare il proprio lavoro in base allo stile che essi prediligono e che vogliono leggere nelle proprie immagini.
La soddisfazione e l'entusiasmo dimostrati dai "nostri" sposi sono la più grande gratificazione e lo stimolo a fare sempre di più, migliorandoci continuamente. Ogni matrimonio è una nuova sfida e un'occasione per superare i lavori precedenti.
Lo studio opera prevalentemente a Verona, ed in particolare nelle zone della Valpolicella e del Lago di Garda, ma si effettuano volentieri trasferte anche in altre provincie e regioni d'Italia, ed all'estero.
Italian Wedding photographer
Your Italian wedding photographer.
ENG
"You don't make a photograph just with a camera. You bring to the act of photography all the pictures you have seen, the books you have read, the music you have heard, the people you have loved."
(Ansel Adams)
The story of our studio starts in Verona in 2009, at first as "Alberto Zorzi Photography", when Alberto finally decides to turn what until then had been my biggest passion in his job.
Always passionate about photography, especially portraiture, he realized the first wedding services in 2009, at first only for close friends and then, thanks to a quick word of mouth, to acquaintances and friends of friends.
The diligence that he always put in this activity, which initially he carried out in parallel with the architectural profession, and the quality of the work, made the customers increase more and more and the requests started to flocking.
The enthusiastic response during the recent years convinced him to abandon the work for which he had studied, and finally to devote himself completely to wedding photography and found his own studio.
In the meanwhile, Alessandra started to collaborate with him, at first as a mere assistant or second photographer, and then as a colleague. It was then that the studio assumed the name "Alberto e Alessandra – Fotografia Italiana".
Today we work in a solid and structured reality, thanks to a series of collaborators who share our photographic style and our concept of wedding photography.
The style of the "Alberto e Alessandra – Fotografia Italiana" is unmistakable: reportage and creative pose merge into an elegant and refined composition, with a clear preference for candid, exciting and original shots. There's also a slight vintage touch, perfectly adapted to the occasion, although revised and interpreted through a modern and international perspective.
Despite having a clear-cut idea of what can make a perfect wedding service, our main goal is always to make the couple happy, satisfying their every need and taste, in the belief that the photographer should never prevail, but shape its own work upon the style they prefer and want to find in their own images.
Satisfaction and enthusiasm from "our" Spouses are the greatest reward and incentive to do more and more, getting continuously better. Every marriage is a new challenge and an opportunity to overcome the previous work.
The study mainly operates in Verona, and in particular in the areas of Valpolicella and Lake Garda, but will gladly make trips in other provinces and regions of Italy and even abroad.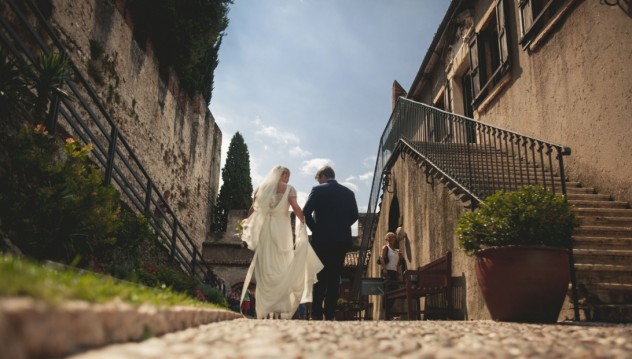 Italian Fine Art Photography